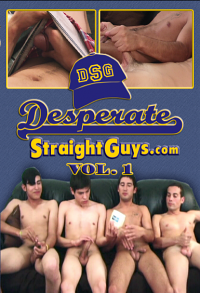 Desperate Straight Guys Vol. 1
When you need to get your hands on some fast cash, you'll put anything in your mouth to get what you need. Directed by Aron Stone, Desperate Straight Guys, Volume 1 proves that, when four young, cute straight guys individually strip for the camera for some hot, solo action. Later on in this DVD, all four, reluctant at first, get together for a steamy orgy and as the sucking and fucking begin, they really get into it! There's also a bonus scene where handsome David hooks up with some Out-Of-Town-Dick from Dallas!
In Store Price:
$44.95
off 44%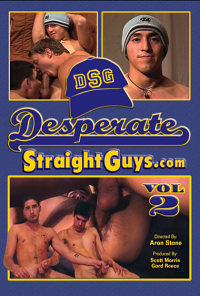 Desperate Straight Guys Vol. 2
Scene one: This DVD starts with two young Latino guys, one smaller and smooth, the taller with a tattoo of what looks like his area code in the middle of Texas on his chest and both in need of some quick money, get into some hot oral action and then take turns fucking each other. Later, the first guys join three more dudes on a bed for some raunchy gang-bang action which includes fucking and group J.O.. Scene two starts off with two men, one of them a smooth, dirty blond. A third straight looking guy joins them for some mutual oral action and then two of the guys, including the blond gets fucked. In Scene Three, two smooth Latino's start off with some mutual masturbation, then later joined by a third in bed for a daisy chain scene which turns into a sexy sandwich, the middle man getting his ass plowed while he's fucking the third guy.
In Store Price:
$44.95
off 44%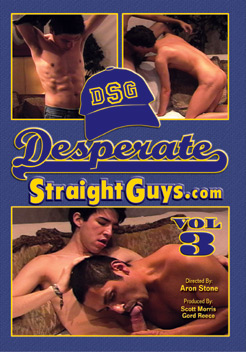 Desperate Straight Guys Vol. 3
For Straight guys in need of some cash during vacation, the lure of fast cash and hot sex is alluring. Watch has these broke college students explain their cash strapped situations and share their first time experiences with another man. in 6 scenes watch as each straight guys encounter one another and suck and fucks for the first time.
In Store Price:
$49.95
off 50%